Modest Fashion has always been a less popular concept in the fashion industry. However, in the last couple of decades in Pakistan as well as globally, we've all seen a slow and gradual shift of the fashion industry towards modest fashion as well. The marketplace globally as well as in Pakistan has now grown and that's great news for everyone who chooses Modest Fashion wear at all times!
Modest wear has defined fashion and style statements for quite some time now and the reasons vary from time to time, with new fashion trends. The Hijab Company has been in the trends and in touch with recent modern fashion for the modest wear to stay classy at all times. Instead of a deemed boring look associated with modest wear, The Hijab Co adds glamour to a modest look and as styling, modest wear was indeed a challenge in old times, but not anymore!
The same goes for Abayas: as the market for this traditional Middle-Eastern modest wear expanded, so did the options to select from. Gone are the days of the black-or-navy-only abaya; current palettes at our online store in Pakistan offer a wide and pleasing variety of colors as well as cuts and embellishments, making the Abaya more stylish than it has ever been.
Abayas at The Hijab Company: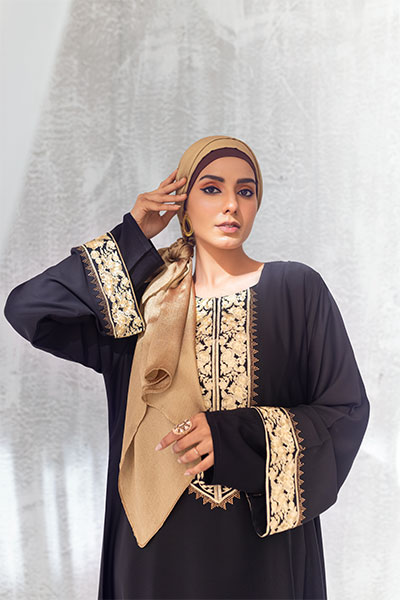 Just like any of our collections like Hijabs and Scarves, we make sure to research market trends before coming up with our new Abayas collection online every time. We keep detailed know-how about what women in Pakistan like to wear and the styles they opt for. For us, the preference of our customers means the most. Then we align the ongoing trends with our classic and luxurious aesthetics, such as high quality, pure fabrics, going for pleats and a variety of cuts, embroideries and much more!
In short, a lot of research work and development goes into launching any Abaya Collection and we'd absolutely love to continue doing the same for our upcoming modest fashion range as the time evolves. Through keeping the fusion of modernity and tradition, we've come up with luxurious Abayas online in Pakistan whilst making sure the focus remains on elegancy and luxury through all our Abayas.
Modest Wear in Pakistan: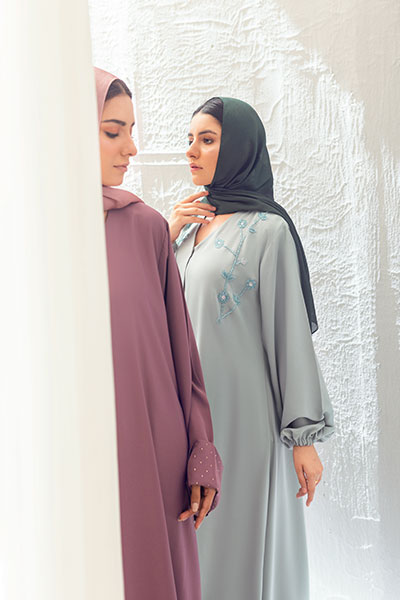 It is now more of a collective cultural change that has brought about the demand for more options in modest clothing. A large percentage of women in Pakistan also opt for modest wear because they feel comfortable as well as safe wearing loose-fitted, covered apparel.
One of the best experiences women have in Asia is that modest wear is also very accommodating to plus-sized consumers. The looser fits are a welcome transition from the scarves, hijabs in Pakistan and dupattas that draped and hide our apparent flaws while being a stylish part of any outfit, they're got-to buys for women across Asia and Muslim countries mostly.
If we take a look at women's fashion in Pakistan, we will realize that over the years ankle-length dresses, baggy kurtas and angarkhas have made their way back into our wardrobes, be it for casual or formal wear. Women who opt for modest wear, love to carry stylish and luxurious Abayas that are now the chic options at our online store in Pakistan and there's no doubt they are extremely comfortable as well.