Wearing a hijab is a beautiful way to express your faith, but it can also be a bit of a hassle when it comes to hair care. If you're struggling to keep your hair healthy and styled underneath your hijab, don't worry! There are a few simple tips and tricks you can use to make sure your hair stays healthy and looks great. Read on for some of our top tips.
Washing your hair
When washing your hair, it is important to be gentle. Use a mild shampoo and conditioner, and avoid rubbing your hair too vigorously. Instead, massage your scalp gently with your fingertips. You should also avoid using hot water, as this can strip your hair of its natural oils. It is best to use lukewarm water instead. When you are finished washing your hair, make sure to rinse it thoroughly to remove all traces of shampoo and conditioner.
Conditioning your hair
If you wear a hijab, it's important to take extra care of your hair to keep it healthy and looking its best. Be sure to condition your hair regularly, by using a conditioner that is specifically designed for your hair type. If you have dry or damaged hair, you may want to use a deep conditioning treatment once a week. In addition, be sure to protect your hair from the sun by wearing a scarf or hijab when you are outdoors. Finally, avoid using harsh chemicals on your hair, such as those found in some hair dyes and styling products. Instead, opt for natural products that will not damage your hair. By following these tips, you can keep your hair healthy and looking great despite the challenges of wearing a hijab.
Dry your hair thoroughly before putting on your hijab
Lastly, always give yourself time to thoroughly dry your hair before putting on your hijab. We've all been there where we've had no choice but to leave our homes with wet hair under our hijabs after a shower because we're running late. But let's not try to overlook that by tying up and keeping our wet hair under our hijabs for hours, we also risk hair breakage and split ends. We suggest washing your hair at a time that allows for natural drying time. Try to align the times you wash your hair during a time, in the day or week, where you know there won't be any pressure that prevents you from drying it after. If not, we recommend using a dryer in a low or cold setting to speed up the process.
Silk Scrunchies are your best friends!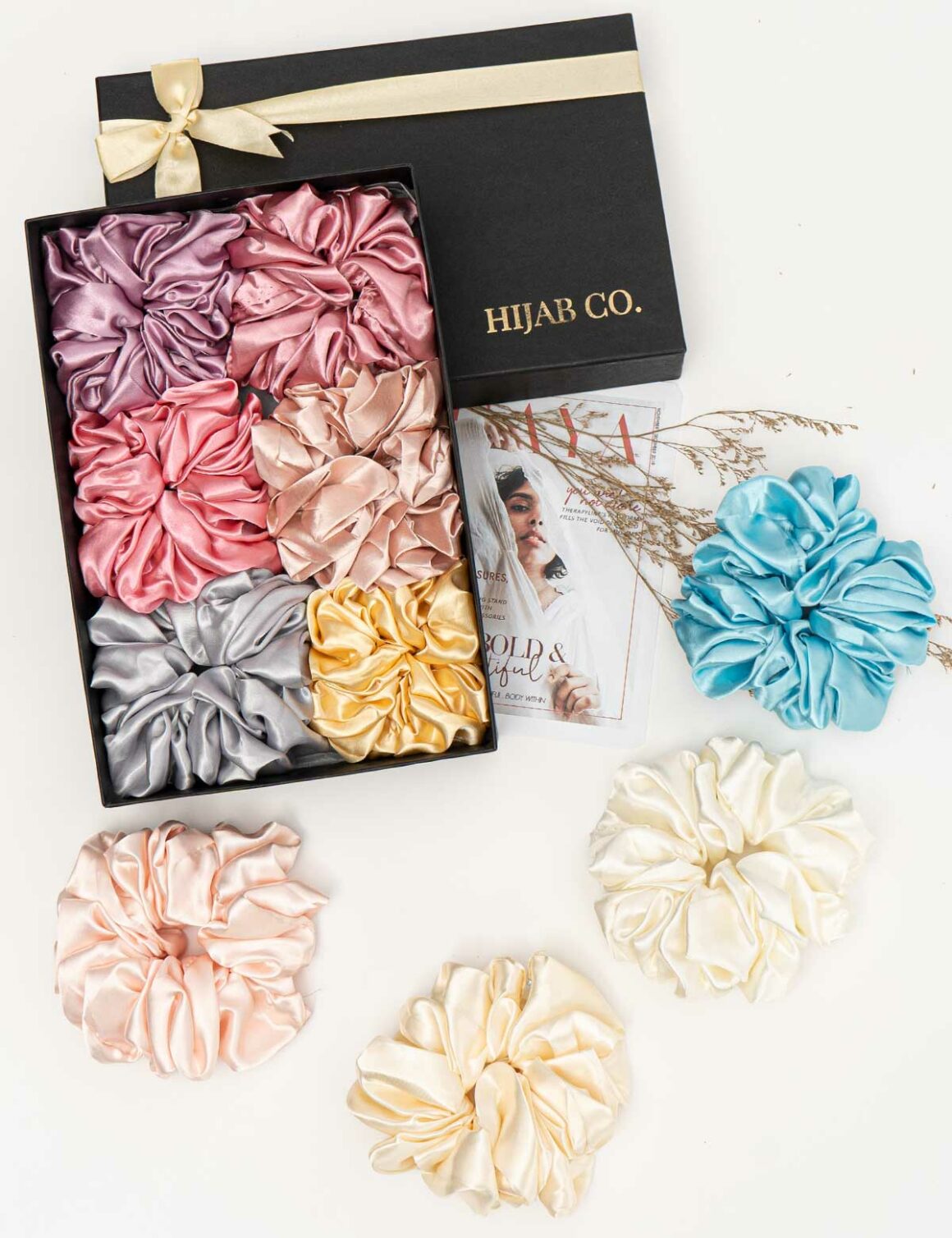 Silk scrunchies are a great way to keep your hair looking smooth and sleek. Not only do they help to keep your hair in place, but they also help to protect your hair from damage. Silk scrunchies are also much gentler on your hair than regular hair ties, so they're a great option if you have a sensitive scalp. If you're looking for a way to keep your hair out of your face, then silk scrunchies are a great option!